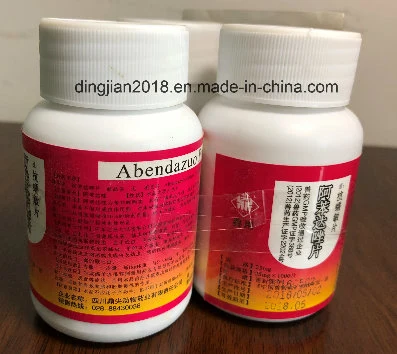 Albendazole tablet
Non-prescription veterinary drugs
Veterinary drug name
Common name: Albendazole tablets
Product name:
English Name: Albendazole Tablets
Chinese Piyin: Abendazuo Pian
[
Main ingredient]
: Albendazole
[
Properties
]:
This product is a kind of white tablet.
[Pharmacological action
]:
Albendazole is benzimidazole, with a broad spectrum of insect repellent.Nematodes are sensitive to them, and have strong effects on tapeworms and trematode worms (but require large doses), but have no effect on schistosome. The main mechanism of action is to bind to the microtubulin of nematode.The combination of albendazole and ilein-tubulin prevents its polypolymerization with peritectin to form microtubules.Microtubules are the basic structural units of many organelles, necessary for cell reproduction processes such as mitosis, protein assembly, and energy metabolism.The affinity of albendazole to nematodes microtubules was significantly higher than that of mammalian microtubules, so the toxicity to mammals was very small.This product not only has a strong effect on the adult, but also on the immature insect body and larvae, as well as the ovicidal effect.
[
drug interaction
]
The combination of albendazole and praziquantel can increase the blood concentration of the former.
[
function and application
]
Anti-worm drugs.Used for cattle and poultry nematode disease, tapeworm disease and worm disease.
[
usage and dosage
]
For internal use: one dose, 0.2-0.4 tablets for each 1kg body weight;0.4-0.6 slices of cattle and sheep; pigs 0.2-0.4 slices;Dog 1 ~ 2 tablets; birds 0.4 ~ 0.8 pieces.
[
adverse reactions
]
(1) The dog will gradually develop anorexia by taking the drug twice a day at 50mg/kg.(2) the cat may show symptoms of mild lethargy, depression, anorexia, etc. When treated with this product, the cat will resist taking it.(3) aplastic anemia of dogs and cats can be caused.(4) it has the effect of teratogenic and embryonic toxicity on animals in early pregnancy.
[
Precautions
]
(1) Lactation period of cow is prohibited.(2) cattle and sheep should not be used within 45 days before pregnancy.
[
Drug withdrawal period
]
: 14 days for cattle, 4 days for sheep, 7 days for pigs, and 4 days for poultry;The milking period is 60 hours.
[
Specification
]
: 25mg
[
Packaging]
25mg*1000 tablets/bottle*80bottles
[
Storage
]
: Keep sealed.
[
Approval no.
]
Veterinary drug (2013)22024119 4
[
Term of validity
]
: 2 years