Injectable Fat Dissolving Lipodissolve Injections Deoxycholic Acid Lipolytic Solution Injection THE RED

The Red is a high-concentrated premium RED solution that combines only vitamin B12 and excellent ingredients for fat decomposition to increase metabolism of fat cells and accelerate it. It is distinguished from existing contour.
The most powerful THE RED lipolysis needle
THE RED Korea A new generation of fat-dissolving essence for the fat type, which is different from the traditional fat-dissolving needles.
It has improved the disadvantages of the traditional fat-dissolving needles
which are easy to hurt, swell and slow to take effect! It has high safety, quick effect, and small side effects.
It has been
approved by the KFDA in South Korea. There are no adverse reactions after use. The effect can be seen in the fastest 24 hours!
The
world's first active ingredient that rapidly decomposes fats such as highly concentrated VB, promotes the decomposition of fats
and expels them from the body at the same time, and simultaneously improves the perfect shape after tightening. It can be used for
facial obesity, double chin, and excessive body fat shape.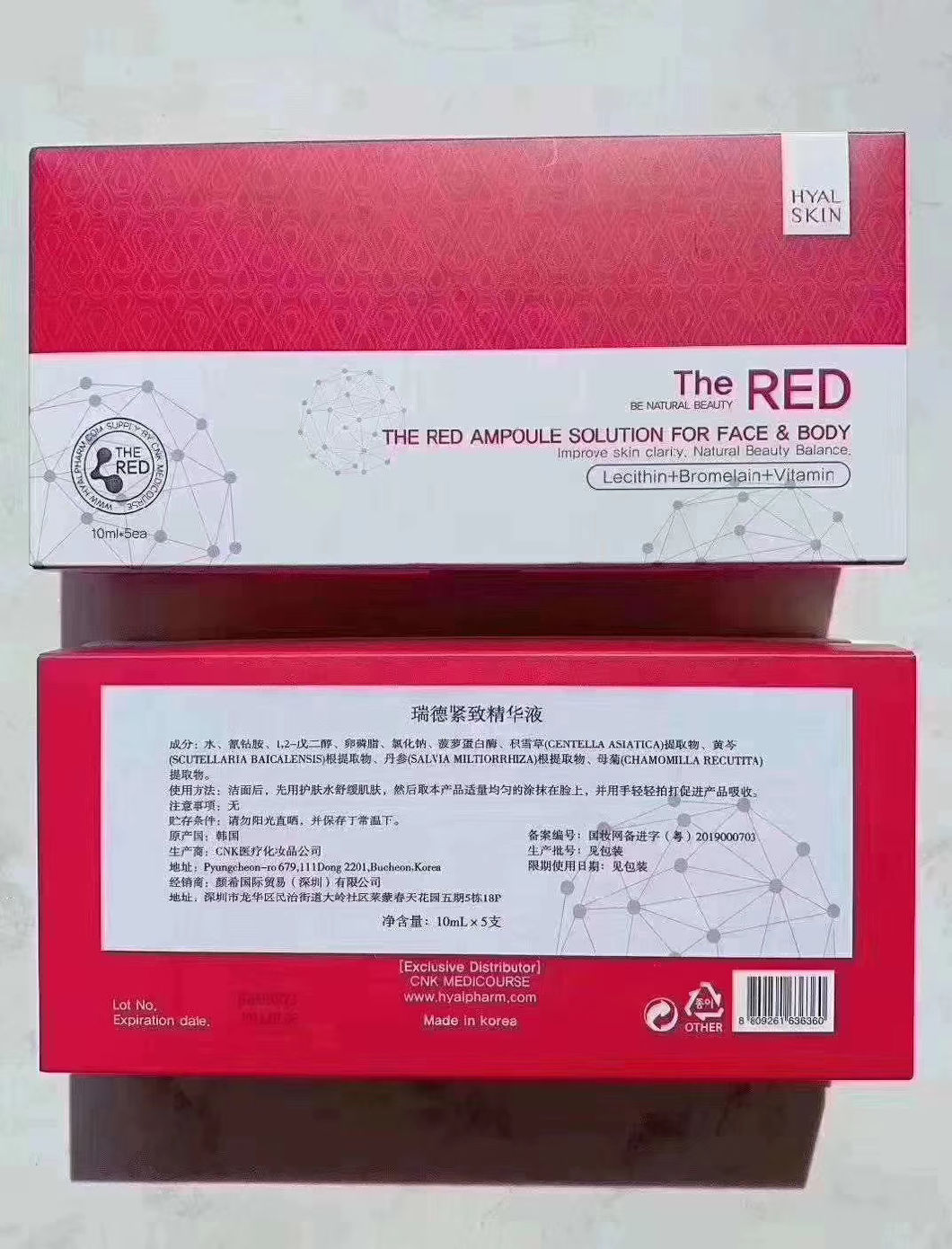 Main Injection Area
1. Double chin : Facial layer of fat which makes thick neck and double chin. 2. Armpit, forearms : Armpit lines of the front part
of arms, forearms around the triceps.
3. Back : Brassiere line which gets a style of dressing disheveled.
4. Abdominal region, ribs(love handle) : abdominal region and weighty ribs on both sides, love handle on the rear side.
5. Hip : Line under a hip which is connected to thighs .
6. Thighs : External or internal lines which jiggle due to excessive fatty layers.
Here's some ways how it can help :
* Reduces the storage of fat
* Increases your metabolism
* Gives you increased energy
| | |
| --- | --- |
| Product Name | |
| Appearance | |
| Apply for | Face,waist,arms,legs,buttocks,body |
| Volume | each box includes 5vials 10ml |