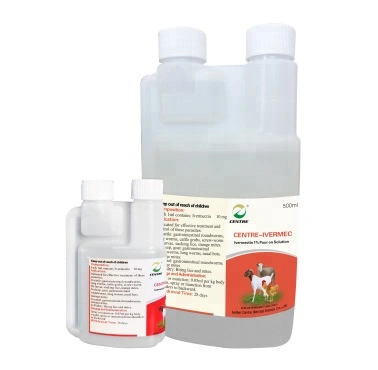 Ivermectin Skin Pour-on Solution 0.5%,1%
Target species:
The target animals are cattle, calves, sheep, goats,
Indications for use:
For treatment of gastro-intestinal roungworm, lungworms, liver fluke and external parasites of livestock like:
Gastrointestinal roundworms (adults and fourth-stage larvae): ostertagia astertagi(including inhibited o. osteragi), o. lyrata,
haemonchus placei, trichostrongylus axei, T. colubriformis, cooperia oncophora, C. punctata, C. pectinata, Bunostomum phlebotomum,nematodirus helvetianus(adults only), N. spathiger(adults only) and oesophagostomumradiatum. Lungworms(adults ang fourth-stagelarve): dictyocaulusviviparus.
Liver flukes: fasciola hepatica (adults only). Cattle grubs(parasitic stages): hypoderma bovis and H.lineatum.
Dosage:
Spray or inunction 0.1ml/kg b.w. for Ivermectin pour on solution 0.5%
Withdrawal periods:
Meat:cattle: 28 days; sheep and goat: 28 days
Milk: 28 days