HUACHONGMIE (1% IVERMECTIN INJECTION)
IVERMECTIN
SAFE AND EFFECTIVE
VETERINARY DRUG NAME
ENGLISH NAME: IVERMECTIN INJECTION
COMMODITY NAME: HUACHONGMIE
APPEARANCE
Colorless or almost colorless liquid, slightly viscous.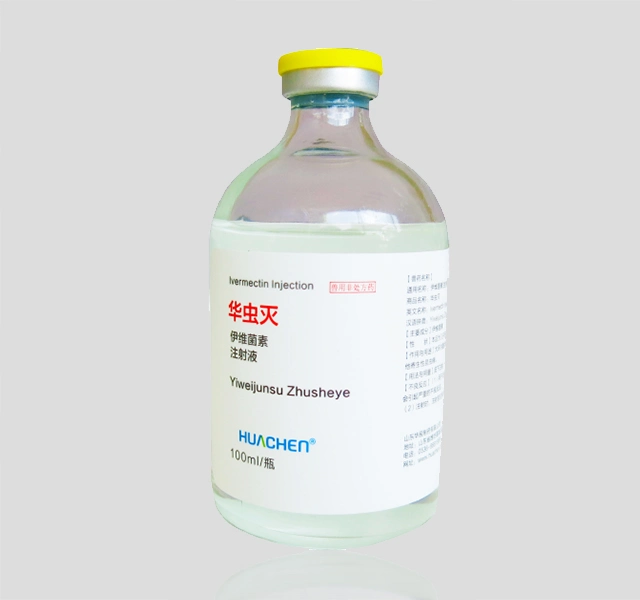 USAGE AND DOSAGE
Subcutaneous injection: one dose, 0.02ml of cattle and sheep per 1kg body weight; pig 0.03 ml.
INDICATIONS
Used to prevent nematodosis, acariasis and other parasitic insect diseases for livestock.
ADVERSE REACTION
(1) Used for the treatment of bovine fly larva skin disease, serious adverse reactions will be caused when the larvae are killed in the key parts.
(2) Discomfort or temporary edema at the injection site during injection.
NOTE
(1) Lactation period is forbidden.
(2) Only for subcutaneous injection, intramuscular intravenous injection causes the toxic reactions. Each hypodermic injection site should not exceed 10ml.
(3) Ivermectin injection containing glyceraldehyde and propanediol only for cattle, sheep and pigs.
(4) Ivermectin is highly toxic in prawns, fish and aquatic organisms. Do not contaminate water sources with the residual of drugs and packaging.
(5) The fatal encephalopathy will have when used in combination with diethylamine.
WITHDRAWAL PERIOD
Pigs 28days
Cattle and sheep 35days
SPECIFICATIONS
100ml:1000mg
PACKAGE
100ml/bottle 40bottles/box
STORAGE
Airtight, sealed and keep in dry place
VALIDITY
2 years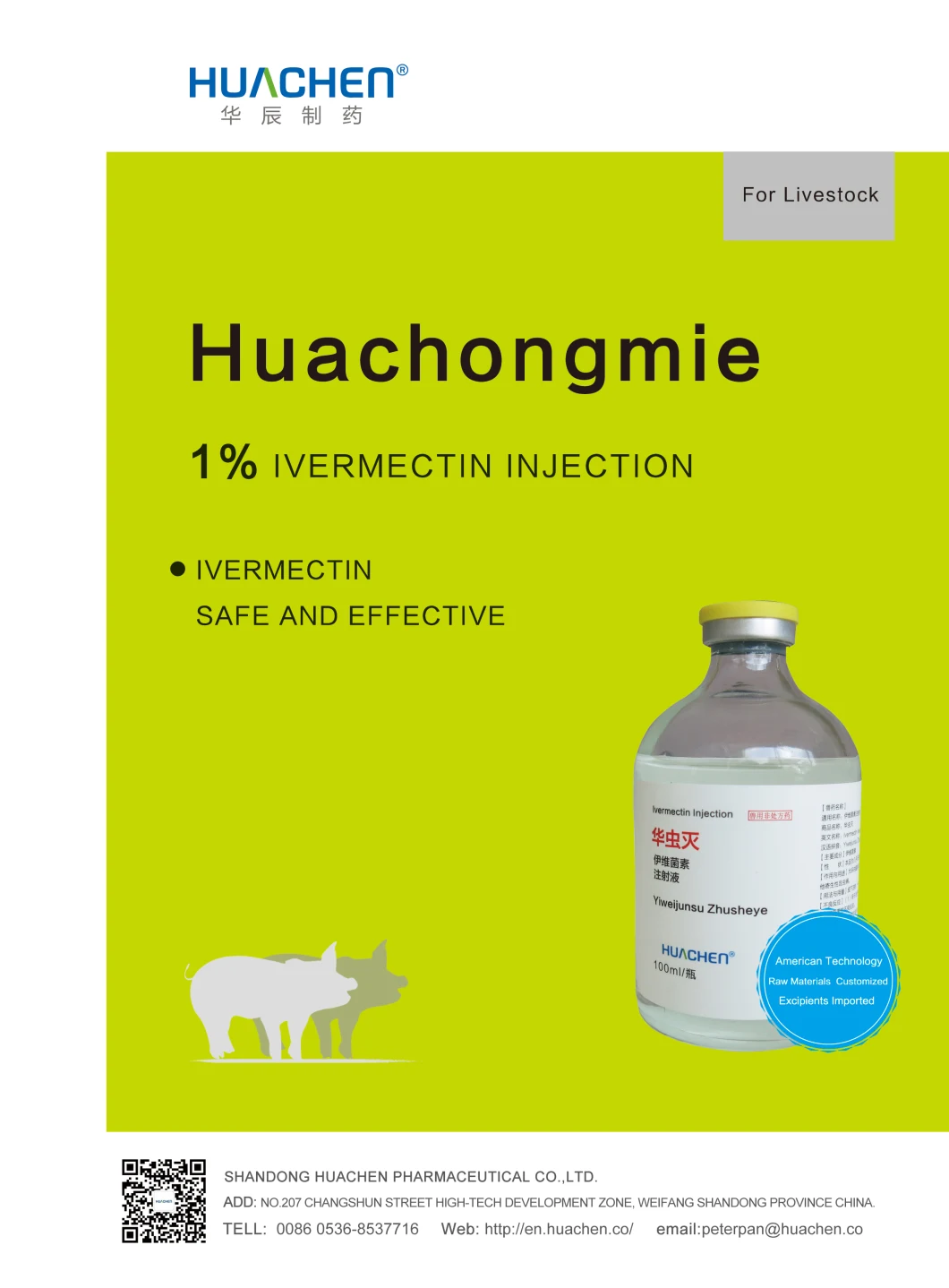 SHANDONG HUACHEN PHARMACEUTICAL CO.,LTD. was established in June 2001 and registered capital is RMB 50 million. It is a modern pharmaceutical enterprise with two subsidiaries, names SHANDONG HUACHEN PHARMACEUTICAL CO.,LTD. and SHANDONG HWATSON BIOCHEM CO., LTD., which specializes in the production of pharmaceutical preparations and raw chemical materials.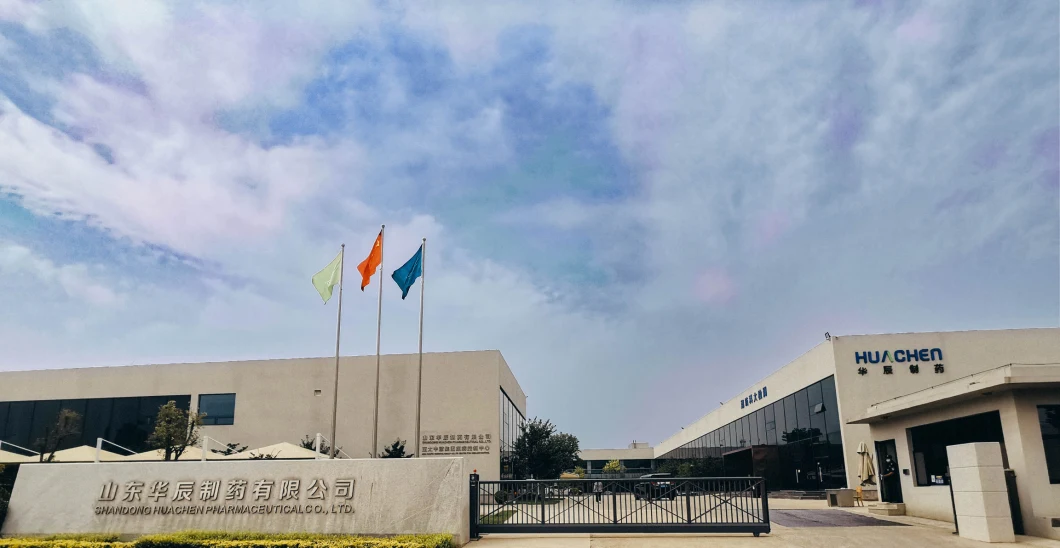 HUACHEN PHARMACEUTICAL has a professional production workshop and testing laboratory in China. In 2016, the GMP pharmaceutical preparations workshop was built according to international standards, which passed the GMP Certification of the Ministry of Agriculture and provided a guarantee for the reliable pharmaceutical preparations combining with the strict production management and quality control system.
Providing customers with the higher-quality products has always been the unremitting striving direction for HUACHEN PHARMACEUTICAL CO., LTD. The company introduced the preparations technology, using the higher-quality customized raw materials and the stable imported ingredients to guarantee the quality of veterinary medicine from the source. HUACHEN veterinary drug preparations inherit the quality of brand drugs to achieve the highest level in quality and efficacy. Its bioequivalence is consistent with the imported drugs, which can effectively replace the imported products, and the price has been greatly reduced.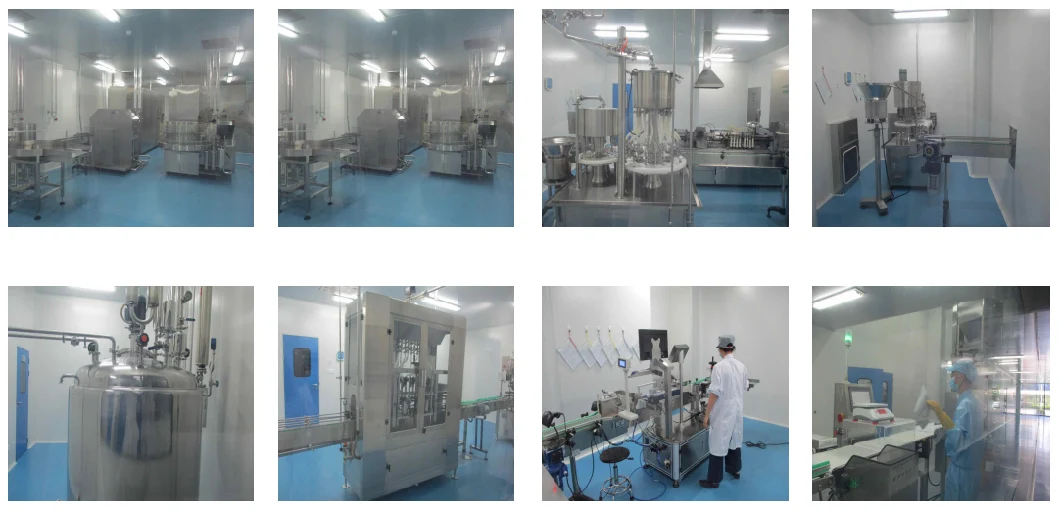 HUACHEN not only produce the high quality products but rely on the professional disease diagnosis and testing center to provide timely and thoughtful service for the majority of breeding enterprises, which solved the problem of after- sales service.
In 2018, HUACHEN has invested RMB 1 billion to build a Pharmaceutical Production Park which covers a total area of more than 34 hectares in the littoral area, creating the research development and manufacturing base for Vitamin B series. On the basis of the existing business trading, the company also involves the generic drugs for human and the innovative drugs.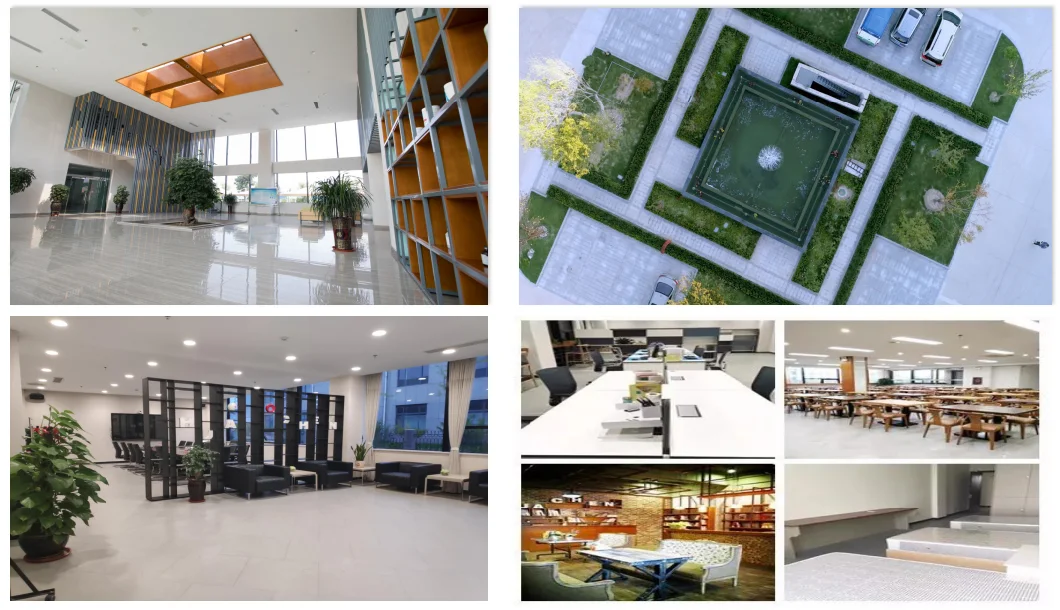 HUACHEN PHARMACEUTICAL CO., LTD. will become a comprehensive modern pharmaceutical enterprise with international competitiveness in the future